Higher Level Teaching Assistant Status


HLTA (Higher Level Teaching Assistant) status is awarded by the HLTA National Assessment Partnership (HNAP) to TAs who have been externally assessed against the HLTA Professional Standards and have successfully provided sufficient evidence to meet each standard. Assessments are managed by five Regional Providers (RPAs) on behalf of HNAP
The RPAs – Babcock 4S, Best Practice Network, the University of Northampton and HLTA North – work closely with each other and within the HNAP partnership to ensure assessments are carried out and moderated by experienced assessors and senior assessors in the nine government regions of England to maintain the integrity of the national status.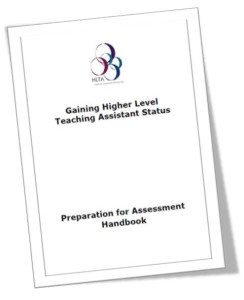 HLTA Standards
 These are subdivided into:
Professional Attributes
Professional Knowledge and Understanding
Professional Skills: planning and expectations, monitoring and assessment and teaching and learning activities
HLTA Assessment
Preparation for Assessment
Before being assessed for HLTA status, you are asked to attend a course, equivalent to three days, with a Provider of Preparation (PoP) so you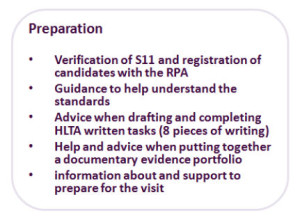 can be supported by a trained HLTA preparer. The preparer provides you with guidance and support to enable you understand the standards, reflect on your practice, draft the written assessment tasks and put together a portfolio of documentary evidence. The preparer will also help you get ready for the assessment visit.
At HLTA North we support and liaise very closely with PoPs throughout the region, registering all candidates for assessment and providing assessor contact details and guidance for each candidate. We also supply each candidate with a unique reference number (URN) as verification of their status.
Providers of Preparation
We strongly recommend you choose a HLTA Provider that has engaged with the RPA-PoPs recommended Code of Practice so you are given sound opportunities for deep, purposeful reflection underpinned by proven expertise in delivering preparation for HLTA status.
 The Assessment visit
When completed, written tasks are submitted to an assessor by an agreed date following the last day of preparation – usually three to four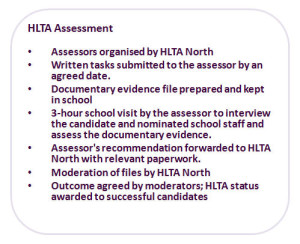 weeks. Assessors are organised by HLTA North. The assessor uses this information to  prepare for a three-hour school visit. During the visit, the assessor carries out a series of  interviews with you and staff nominated by you; they also look through and assess the documents in your portfolio. These documents remain in school. Following the visit, assessors forward their recommendation to HLTA North with copies of your tasks and records of the school interviews.
All our HLTA assessors have excellent knowledge and experience of working in schools and have been trained and quality assured by HLTA North; together we operate under the agreed Code of Practice for Regional Providers of Assessment.
Moderation, outcome and award of HLTA status
Moderation of files is carried out every month at HLTA North and results letters and certificates are issued by the HLTA National Assessment Partnership, usually in the second week of the month following moderation.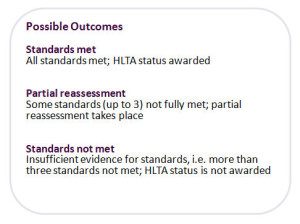 The success rate for Standards Met is good as the application process is rigorous and all applications have to be endorsed by a member of the SMT in school.
Occasionally, moderators feel they need a little more information and will offer a partial re-assessment, for one, two or three standards ; this is carried out by a Senior Assessor usually via a telephone interview. The additional information is submitted for moderation.
Where the outcome is Standards Not Met, a Senior Assessor will provide advice about the next step.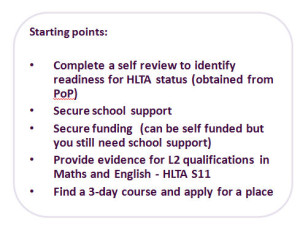 Am I ready?
A self review gives an indication of any areas in your practice that need further development; sometimes this additional work can be carried out in school as part of your in-school CPD training or you may consider attending a Longer Route Training course (see courses)
When applying for a place on a HLTA course, all PoPs ask you to complete a Self Review or Needs Analysis to include with your application.
Fees
The fee for assessment is set by HNAP and is currently £450 per person.
The cost of the preparation is set by individual PoPs.
FAQs
Answers to the most Frequently Asked Questions
Additional FAQs are available on the HNAP website.
Not found what you are looking for? Then please contact us: