Higher Level Teaching Assistant Status


HLTA (Higher Level Teaching Assistant) status is awarded by the HLTA National Assessment Partnership (HNAP) to TAs who have been externally assessed against the HLTA Professional Standards and have successfully provided sufficient evidence to meet each standard. Assessments are managed by three Regional Providers (RPAs) on behalf of HNAP: HLTA North is based in the North of England.
Qualifications needed: Level 2 qualifications  in Maths and English or equivalent (Standard 11). If you do not hold the necessary qualifications, you can find out more information about how to obtain them on the HNAP website.
Employment status: You must be employed full or part-time in a school or academy.
Experience: You are able to provide examples of when you have advanced learning when working 1 -1, with a small group and with a whole class (without a teacher present) as well as examples that show how you have demonstrated the HLTA standards in your practice.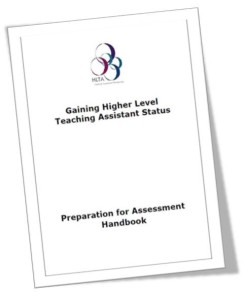 HLTA Standards
The Preparation for Assessment Handbook is an essential guide to the process and the standards
HLTA Preparation and Assessment
To achieve Higher Level Teaching Assistant Status there are four stages:
1. Find a course and apply for a place.  Courses are provided by PoPs (Providers of Preparation). PoPs will ask you to:
ensure you have funding
ensure you have sufficient experience to demonstrate the standard
obtain support and verification from your school that you are working at the expected level for this stat
provide evidence of level 2 (or equivalent) qualifications in maths/numeracy and English/literacy
2. Prepare for the Assessment by attending the course  so you are ready to be assessed against the HLTA standards. Course can be face to face or  online. They will:
introduce you to the assessment requirements and processes, including registration for assessment with HLTA North
help you understand the standards and how to demonstrate them through your practice
provide guidance and support when drafting and presenting task and documentary evidence
prepare you for the assessment
This can take place in your school or online. It is carried out by an experienced HLTA Assessor, allocated to you by HLTA North and involves a series of interviews with you and nominated staff (there is no observation). During the assessment, the assessor will also scrutinise your documentary evidence .
After the assessment, the assessor forwards all the paperwork with a recommendation regarding the outcome to HLTA North. They do not give any indication of their recommendation to you or anyone in school. All our assessors have excellent experience of working in schools and have been trained and quality assured by HLTA North to carry out assessments.
Moderation of files is carried out every month at HLTA North and the moderators determine the outcome for all files submitted. Results letters, certificates and badges are issued by HLTA North on behalf of HNAP  following moderation.  Possible outcomes: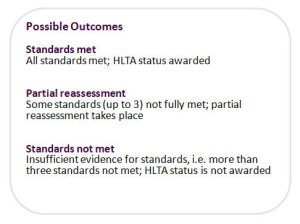 Standards Met All standards are judged as met.
Partial Reassessment Occasionally, moderators will ask for a partial re-assessment (PR) of one, two or three standards as the evidence they have is insufficient. This is carried out by a Senior Assessor usually via a telephone interview. The additional information from the PR is submitted for moderation.
Standards Not Met More than three standards have been judged as not met and the status is not awarded. A Senior Assessor will contact the candidate to discuss any issues and provide advice about the next step.
Am I ready?
Most PoPs will ask you to complete a Self Review or Needs Analysis to include with your application. A self review of your practice against the standards can give an indication of any areas where you need further development or more opportunities to demonstrate your skills and knowledge. Often this can be carried out in school as part of your everyday practice and in-school training but you may consider attending a Longer Route Training course or additional Training days that are provided by some Preparers.
Fees
The cost of the preparation is set by individual PoPs. The fee for assessment is set by HNAP and is currently £450 per person.
Course details and contact information for PoPs in the North of England are available here
FAQs
Answers to the most Frequently Asked Questions HLTA FAQs 2020
Additional FAQs are available on the HNAP website.
Not found what you are looking for? Then please contact us: